When my father first came from India to the United States in 1970, he began his new life by sailing from Europe to New York aboard the SS France. In a strange twist, the legendary liner is now ending her life on a beach in India where shipbreakers are dismantling her hull. I only saw the ship in person once as a kid while on vacation (she was anchored a distance off shore), but I remember vintage photos of my father onboard during his crossing wearing thick black framed glasses, his hair caught in the sea breeze. (Photos of my father with hair are rare, so I tend to remember them.) Many ship enthusiasts fought hard to preserve the vessel as a hotel or museum. It may seem strange, but a number of other classic liners have escaped death in this manner. The original Queen Mary (1936) ended up as a floating hotel in Long Beach, California, The Rotterdam (1959) has been preserved in Holland, and the Queen Elizabeth 2 (1969) will retire later this year to become a hotel in Dubai. Unfortunately, even though SS France has had one of the most illustrious careers at sea and is universally praised as a pinnacle of nautical design, she's been destined to the scrape heap.
For the sake of brevity, I'll focus this post on just a single design element of the liner–her funnels. SS Francewas built with a radically modern funnel design in 1961. Unlike most ships at the time with their uninspiring "paintcan" funnels, SS Francehad winged smokestacks. They became instant icons, and the French Line made wide use of them in their advertising (see the fantastic poster on the left- I'd love to get myself one of those). Twenty years later, Carnival Cruise Lines' architect, Joe Farcus, adapted France's funnel to create Carnival's own winged design which is still found on every one of their ships today. Apart from being aesthetically arresting, the winged funnels actually served a very practical function. The wings expelled fumes away from the ship's open aft decks, thus prevented soot from falling on passengers and deck furnishings.
After the transatlantic shipping trade came to an end, thanks to affordable jet travel, SS France was laid up. She was eventually purchased and converted into a warm-weather cruise ship by Norwegian Caribbean Lines (NCL) and renamed SS Norway. The French Line's red and black funnel livery was replaced with contemporary blue and while arcs that accentuated the winged funnels and better fit the ship's new tropical environment. For nearly a decade, SS Norway was the largest cruise ship in the world–a title that attracted fame and passengers. She and her winged funnels were once again icons. In the 1990s, NCL came under new management and the aging SS Norwaywas remodeled to stay competitive against newer ships in a rapidly growing industry. Unfortunately, the changes made to the ship diminished her original design purity. Two additional decks of cabins were added to the top of the ship, thus reducing the funnels' visual height. The blue and white arcs were gone, replaced with solid navy blue paint and a lame "NCL" box logo. But perhaps the worst additions were a large white radar "bubble" atop the forward funnel, and additional exhaust pipes emerging from the top of the aft funnel. The wings would no longer be functional, but merely decorative features.
In 2003, while docked in Miami, one of Norway'sboilers exploded. The ship was towed to Germany for repairs, but none were ever made. The cost of re-engineering the ship, combined with her age and inability to compete with newer megaships, resulted in NCL selling the ship to Indian breakers. Once all attempts to preserve the ship failed, the dismemberment began. Today virtually nothing remains of SS France/Norway–not even her funnels. During the years Norwaylanguished in a German shipyard, one enthusiast proposed a plan to preserve the ships' funnels if nothing else. He thought the refurbished smokestacks might serve as a monument, library, or a public space. A wonderful idea to preserve two icons of nautical design and history, but one that never came to pass. SS France (circa 1961)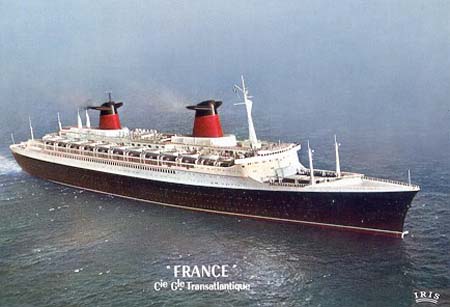 SS Norway (circa 1981)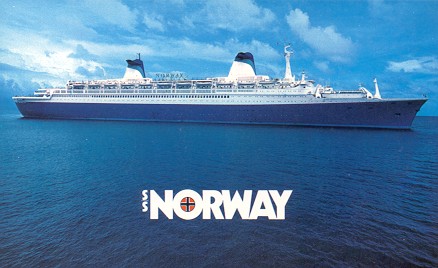 SS Norway (2007 Alang, India)
SS Norway (2008 Alang, India)